Travel Documents from Argentina
What do I need to travel to Uruguay from Argentina?
---
IMPORTANT: CHECK THE COVID-19 REQUISITES TO ENTER INTO URUGUAY. You will need your Passport (remember: Uruguay is another country!); no additional visas are required. AUSTRALIA nationals: you will need also copy of your Reciprocity fee. AIRLINE CREW MEMBERS: you will need Passport and special authorization from your Airline to cross the border.
---
How do I go from my hotel in BA to the port?
---
We don't have transfer services in Buenos Aires, so you will need to take a taxi but it's very easy to get to the port; it's just 15 minutes' drive from the most touristic places in BA (San Telmo, Palermo, Recoleta, Obelisco, Monserrat).
---
---
Horses, Guides and Groups
Have you got helmets?
---
Yes, helmets are available and non experienced riders should use them. Of course, they are free of charge.
---
Will a guide ride with me (or my group)?
---
Yes. All the horserides are lead by me and other very experienced, highly qualified local horseman (gaucho).
---
Is this the typical "nose to tail" walk for tourists?
---
Not at all. Our Criollo horses are very sweet but well trained also; however this ride is not recommended for people afraid of horses as we ride in open countryside and beach on gaucho saddles.
---
I'm a first time rider/beginner; what if I'm not so good controlling my horse?
---
Beginners are welcome however they could be on a lead rein for all or part of the ride at my discretion (I have many years as instructor). Of course, people can choose directly to be on a lead rein from the beginning of the ride if they don't feel comfortable... but 99% of the beginners don't need it!
---
What kind of horses and saddles do you use?
---
We use CRIOLLO HORSES with original GAUCHO SADDLES (NOT Western or English saddles).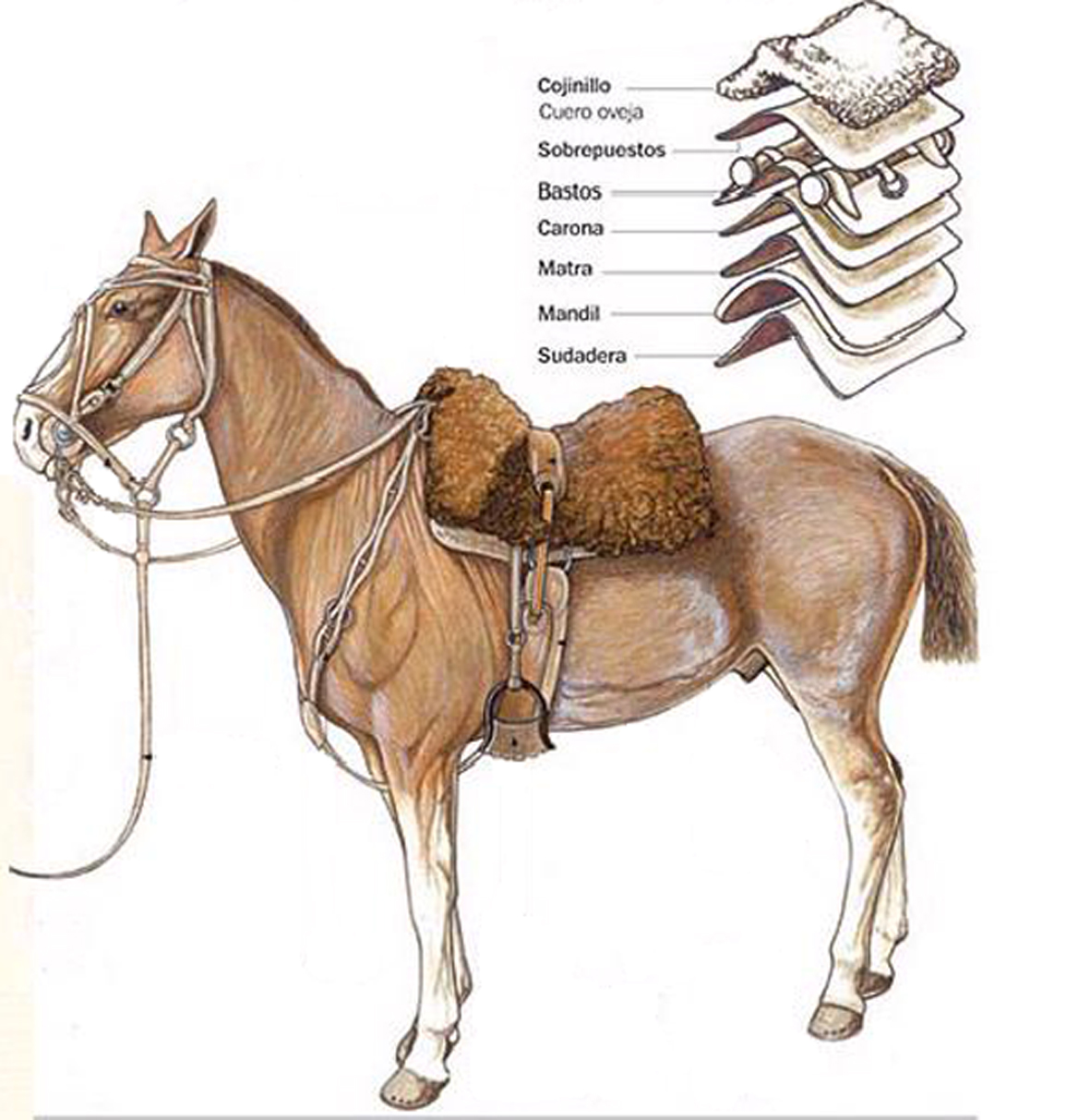 ---
How big are your groups?
---
Our groups are never bigger than 8 people + the 2 guides.
---
Maybe I don't have the same experience of the rest of the group, what should I do?
---
That is not a problem because we are always 2 professional guides and one of us can stay with the beginners and the other one can gallop with the more experienced riders.
---
Do you mix different level riders?
---
Because we are always 2 guides, it is not a problem to have groups of riders with different levels. However we try our best to make same level groups when possible.
---
Do I need special clothes to ride?
---
Just wear good shoes (ankle boots if possible) and long trousers (jeans are OK; no shorts). Mosquito repellent and sunblock (specially in Summer) are suggested. I have helmets.
---
Is this activity recommended for children?
---
+ 7 yrs old children are allowed to participate in this activity but only with adults in charge. Obviously, I'm more strict about children riding level and some previous experience is recommended.
---
What is the difference between your horseriding and one at a Estancia or countryside without leaving Buenos Aires?
---
If you are not sure after reading my TripAdvisor reviews, here there are other good reasons to join my horse adventure: 1) I offer a unique horseriding in a beautiful, natural open beach (you won't find this near BA!). 2) If you are a good rider or just want to try a canter or gallop, you can do it (this is not a "nose to tail" trail!). 3) My groups are small (no more than 8 riders) and personalised (we are always 2 professional guides). 4) I'm a professional rider with a lifetime experience as an instructor, having had stables and horseriding services in 3 continents already. 5) You can make the most of your day trip at Colonia del Sacramento doing some of my options: * PRIVATE Walking tour of the UNESCO World Heritage Historical Quarter (see specific question). * Traditional lunch in our "All you can eat" BBQ with fresh farm products, local wine and beer, and the best Uruguayan meat (see specific question). 6) Last but not least: our prices are -minimum- half of the price you would pay in any "touristic" Estancia or farm near Buenos Aires.
---
---
Availability & Timetables
What happens if it rains?
---
WIth light rain the activity will go ahead. In case of unexpected rain or thunderstorms (which is not usual here) the horseriding program will be cancelled and the price will be refunded (except ferry tickets price which are non refundable). However, when the forecast seems to be really bad, I cancel the ride directly (or bookings are not taken). Check here the forecast in Colonia del Sacramento.
---
How long in advance can I book?
---
We accept bookings with a maximum of 3 months in advance.
---
What is the minimum time to book?
---
It is quite usual for us to receive enquiries the day before; it's OK but clients have to book the ferry tickets by their own because it's too late for us to do it.
---
Why do I need to fill in a booking form?
---
Your personal information is necessary to buy the ferry tickets and we need to know your riding level, age, height and weight to choose the right horses for you.
---
I'm calling you but nobody answers the phone!
---
If possible, please send us an email; it's easier and faster for us to reply and we will attach our "Prices and Conditions" document. Due to the rides and trips, maybe it's impossible for us to answer your phone call... we are usually on a horse when working!
---
What is the normal booking procedure?
---
In general, after you send me an email or call me: 1) I send you the "Prices & Conditions" document. 2) If you are interested in doing any of the three proposals, I will send you the BOOKING FORM online to complete and the PAYPAL link to pay the necessary money in advance. 3) After I received the payment, I buy the ferry tickets (if you asked me to do it) and I send you the tickets and the itinerary for the day with a picture of me to recognize me at the Port in Uruguay. 4) You confirm me that you have received your tickets and itinerary and that's it!
---
I want to book but I don't have a partner; what should I do?
---
I confirm my rides with a minimum of 2 or 3 riders plus me (according to the service). If you send your enquiry for a date when I don't have another booking, I will PRE-book you waiting to have at least 1 or 2 more riders. With 2 or 3 riders confirmed (according to the service), I will do the ride. Another possibility for you would be booking a PRIVATE ride for 1.
---
We are two people but we would prefer not to share the ride; can we book a PRIVATE ride for 2?
---
Sure; for example, we had some honeymooners in the past and they wanted to have their special experience without other riders. You can ask for a PRIVATE ride for 2.
---
I don't speak good English; is it a problem?
---
No, it is not. I speak English and Afrikaans (native) but I can communicate in Spanish, German, Greek, Portuguese and Dutch. I always give the esential security advice before riding. I have had people from Russia, France, Germany, Belgium, Netherlands, Italy, Czeck Republic, China, Pakistan, Colombia, Brazil, Argentina and Mexico (among other non English speaking countries) and with a minimum English, we didn't have any problem.
---
---
Non rider people
I'm a non rider, could I join my partner who will ride?
---
NON RIDING PARTNERS of riders are also welcome to join the Horseriding Day together with riders and will be transported to the beach by car where they will have the opportunity to photograph or video their partners or just enjoy the raw beauty of the location. The price is the same as for the horseriding.
---
---
About Colonia (Uruguay)
Where does the ride take place?
---
The city of Colonia del Sacramento is located just one hour by fast ferry from Buenos Aires, Argentina (50 km/30 m) or two hours by bus from Montevideo, the capital city of Uruguay (180 km/112 m). Here you have a map. Our ranch is just 20 minutes' drive.
---
Can I join you from Buenos Aires (Argentina)?
---
Of course you can! In fact, a day trip to Colonia del Sacramento is a must recommended in every travel guide about Buenos Aires.
---
Can I join you from another part of Uruguay?
---
Absolutely. I often receive people from Montevideo, Punta del Este and other cities in Uruguay (even people who are already in Colonia).
---
Is it worth it to stay an overnight in Colonia?
---
Yes! If you can choose, I would recommend you to stay one night in Colonia so you could enjoy more relaxed the city. However, my activities are planned to perfectly fit into a 1 Day availability, so no worries if you only have one day to do this.
---
How do I get to Colonia from Buenos Aires?
---
It's very simple: there are 3 ferry companies that unite BA-Colonia and it's just a 1 hour trip. And the good news is that both ports are located in the city center: * Puerto Madero (BA) is just 10/15' taxi drive from any touristic quarter (San Telmo, Monserrat, Recoleta, Palermo, Retiro). * Colonia Port (Uruguay) is located 5 blocks away from the Historical Quarter, where the walking tour is done and our BBQ is located.
---
---
Ferry tickets
Can you buy my ferry ticket?
---
Yes, but at least with 48hs in advance. Please bear in mind that ferry tickets availability on Saturdays, long weekends, last minute requests and high season (Nov-Mar) is much more difficult and prices are likely to increase. I try my best to get the best price.
---
Can I buy my ferry tickets on my own?
---
Sure. You will need to do it personally, online or by phone in any of the three ferry companies: Buquebus, Seacat or Colonia Express. I have a discount as an agent but the decision is yours. IMPORTANT: * You will need to buy the tickets that fit my itinerary * You will need to send me your ticket copies for me to be sure you are coming
---
What are the ferry companies that go to Colonia?
---
There are 3 companies departing from Puerto Madero (Madero Port) in Buenos Aires: - BUQUEBUS, SEACAT (departing from the North Dock, near Retiro quarter) - COLONIA EXPRESS (departing from the South Dock, near La Boca quarter)
---
---
Cancellations
How do I cancel my activity? Will I be refunded?
---
For participants who cancel, money is only refundable without exception by written cancellation until 48 hours before the excursion. Ferry tickets are NON refundable (ferry company's policy).
---
I was late and I lost the ferry/I forgot my passport/I don't have my Airline stamp to cross the border... What can I do?
---
Sorry but in case of No Show or problems with your travel documents, no claims will be accepted.
---
---
Payments
What currency do you accept?
---
We accept US Dollars, Euros, Reals and Uruguayan Pesos.
---
Can I pay with Credit Card?
---
Yes, but Credit Cards are only accepted through PAYPAL, adding the 5.70% Paypal fee The system is very easy: you do not have to have a registered PAYPAL account, we send you a request to pay to your email and you just have to follow the instructions.
---
Do I have to pay something in advance?
---
If you asked me to buy your ferry tickets you will need to pay in advance via PAYPAL the tickets IN FULL and 50% of the day price. If you buy your ferry tickets by your own, you can pay me in advance via PAYPAL 50% of the day price. In both situations the balance is paid on the day in cash.
---
Can I get US dollars in Uruguay?
---
Yes, US Dollars are available from ATMs in Uruguay (not in Argentina). However, if you plan to withdraw USD from the ATM in Uruguay, tell your bank to authorize it before travelling; some clients have had problems.
---
Can I pay with Argentinian Pesos?
---
I prefer not to accept Argentinian Pesos. If it's the only currency you can get, you will have to add 30% more to the price because of the bad exchange rate here in Uruguay.
---
---
About the lunch
What is the lunch menu?
---
Our bbq, apart from the best uruguayan meat (beef, pork, chicken and many local specialities), has an excellent section of fresh farm vegetables, rice, eggs and more, so vegetarians are welcome. Our desserts are also good offering flan, ice cream and fruit salad. The local wine, beer or soft drinks are also included (1 drink and a dessert per person). In the "Gallery" section you will find many pictures taken at the restaurant!
---
Where is the restaurant located?
---
The BBQ is located in the Historical Center of Colonia, so when we finish lunch we are ready to start the historical tour just there!
---
---
About the walking tour
Is the walking tour private?
---
Yes. Our official tour guide of Colonia is an uruguayan woman who speaks English and the walking tour is PRIVATE, only for Colonia Horseriding clients.
---
How long is the walking tour?
---
The Historical Center of Colonia is pretty small: around 5 x 6 blocks! However it was declared by UNESCO as "World Historical Heritage". Our historical tour takes an hour plus.
---
---